This card has a typo in my deck: Nice of Cups – see the picture I took and attached below. I actually don't mind the typo because the card itself has really nice meanings – pun intended (I like puns).
The typo is due to the fact that the deck is translated into Chinese, so whoever was in charge of this deck …. probably doesn't know or didn't pay attention to the letters.
Enough intro, let's jump into things after the picture… 😉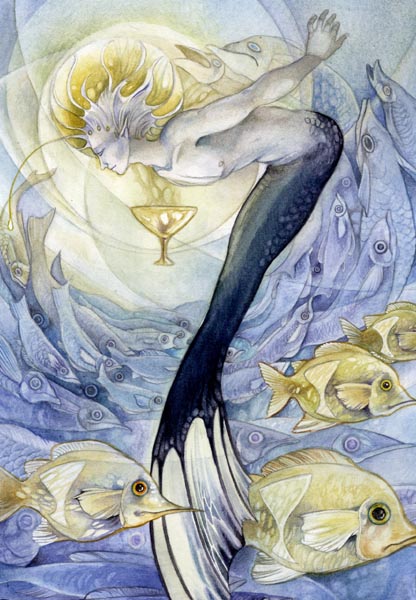 Card description:
The first things i see when looking at this card are the overall color blue of the card and golden fish. There are some blue fish as well. We also have a merman – one of the few male characters in the deck. I do feel the deck has many more female characters than male ones. There are 8 golden fish 
This is the description from the official page:
The pleasure of the senses, satisfaction and wish fulfillment, success, assured future, bounty, and health.
The merman seems to be taking in some sort of energy from a cup. I also see a stylized sun, and a bit of a Fibonacci spiral. 
Extra stuff to know and consider:
It seems that this card means pleasure of the senses, satisfaction – and we can kind of see such feelings on the face of the merman.
The many fish on the card also indicate abundance and can indicate an assured future. Perhaps one or more wishes will come true. 
However, the overall blue of the card makes me feel "blue" or sad. It especially makes me feel cold since this is the coolest color we know. The yellow/gold is supposed to be warm, but here cool tones of these shades are used.
This is also a peaceful card – blue is a color that can calm a person down, that can relax. The fish are known not to make a sound (for the human ear) and even the merman seems to be meditating, and thus silent.