The first thing to know about this card is that it is misleading tarot readers, especially those who are new to it.
The traditional meaning is "Union, balance, energy, flow, passion, melding of heart and mind, forming a union or marriage. " read more here.
In reality, this card, at least in this deck, warns about a breakup or a choice that one must do and that could lead to a separation.
Pay attention to how the couple kisses: his eyes are open as if to check his partner is still there, or as if he knows he's going to lose her for good.
She's also reaching for a golden crown that 2 birds are flying away with. This means she's thinking more of the material world than the spiritual. Or emotional. This is not necessarily a bad thing, but it also doesn't mean she'll be happy while being surrounded by all the comfort riches can bring.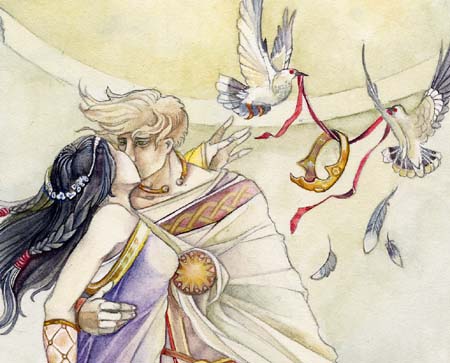 She already has a crown on her head and another one in her hand, and she obviously can't wear all 3 at the same time, nor does she have 3 heads. The ones she already has are made of flowers, which means they'll fade in time.
The one on her head might be made of silver, as it looks gray/white. This means that she longs to be of a higher social status by reaching out towards the golden crown.
They're surrounded by temptation, one of them right at their feet and has religious symbols, from the Book of Genesis with the snake and the apple.
There is a little humanoid creature that seems to push the snake away a little bit, so that the couple can have their moment. This little creature wonders if their love is pure and if they will fall for temptations, as a closer look reveals it's the little creature holding the apple: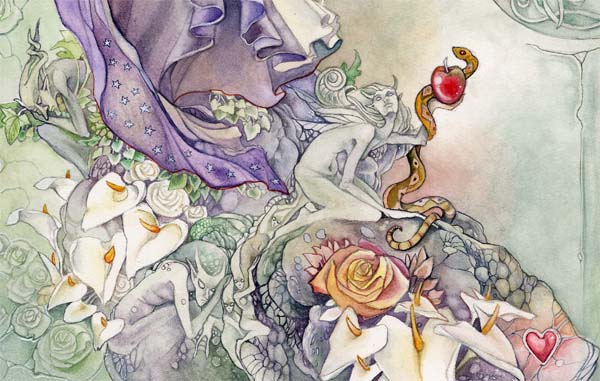 The card is full of symbols:
suns everywhere – above them, on his clothes,
circles – at least 4. – 2 of those circles are around the 2 suns
the red ribbon -one with which the gold crown is taken away, 2 tied in her hair, 1 in her hand,
flowers – calla lilies and roses, at their feet and on the wall behind them,
3 acorns on the wall,
4 pigeons
3 falling feathers
3 crowns
a single red heart right at the bottom of the image. It's so small, one could miss it.
Her dress has stars on it too. This seems to oppose his Sun.
Other oppositions are:
Hair: she has black hair – he's blonde
Clothes: Her clothes are dark in color (purple) – his clothes are white (light) colored
She holds a crown, he holds a single flower
Her ribbons and his belt
This card really seems to be telling us that the choice we have to make is hard. It's also possible that this card tells us to follow our hearts, and gut feeling. It's possible, that the couple reached this point after following the path laid out by their hearts.
Or is it that one of them dropped their heart (desires, most likely him, in the image) to follow her? Hence she's reaching towards the crown.
In any case, this choice is not without regrets, but it has to be made.
©Charly Cross 2013 – present. All rights reserved.