The Wheel of Fortune is a rather important card, in my opinion.
It's classic meaning refers to destiny, fate, turning points, movement, change, patterns, and cycles. This card reminds us that "what goes around comes around."
What do we see?
The main color is yellow, with hints of blue and purple.
In the center of the card there is a big wheel/circle decorated with what seems to be Celtic knots, a sun/star right at its center, surrounded by a what looks like a stylized snowflake.
Half of the wheel looks faded, though it's probably some mist or fog that gives this impression. The other half has better defined colors, hence it looks darker.
The wheel appears to be set on a wall, that has 2 perfectly round openings: one at the top left and one towards the bottom right. Through the top opening we can see a crescent moon and a few stars. Through the bottom opening we see a tree branch and something that looks like some star-shaped flowers, weed-like.
There is also a flower under this wheel, but in front of it. At the bottom of the image, we see a "bed" of blue roses.
There are no main characters on this card, with the exception of a few little faeries. About 10 of them. One of them, holds a skull and analyses it, in a pose reminiscent of Shakespeare's famous "To be or not to be?" scene.
There are several squares on the wall. These squares are grouped together in 3 clusters.
If you want a good or a closer look at this card, click here.
What can it all mean?
The meaning of this card is pretty clear: everything in this world comes and goes. Only a few things are there permanently.
There are a few elements that point to this fact or reality:
coming/leaving:

The wheel, as it's not meant to stay still, it goes round and round
The flowers – first they bloom, then they fade, then they die, and they bloom again
The moon: it has a cycle of about 28 days of waning and waxing
The snowflake: it melts really fast and even though there are no 2 snowflakes alike, they're always replaced and they come back every winter.

constant/permanent:

The squares in the wall – they are just there, and nobody knows why.
The round holes
'The Celtic knot – following the pattern in its design, you'll never find a way to un-knot it, thus it stays knotted forever.
The plants – it's pretty difficult to get rid of them
The waning and waxing cycle of the moon happens every month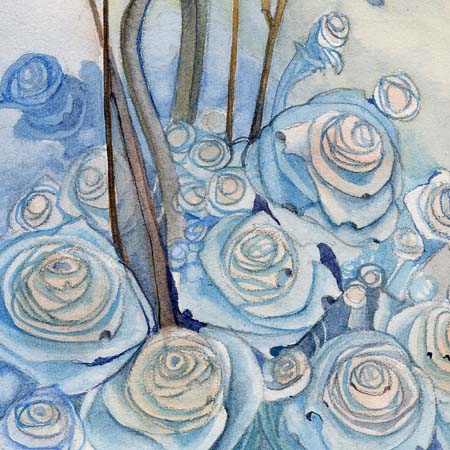 This card appears to remind us that any point of the wheel can only go this low or high. After that, the point will go upwards or downwards, depending on where it was. This means we should always be prepared for good and bad periods in life.
In this deck, this card has the 10th position. 10 is another good representation of the situation i just mentioned: 0=nothing, loss, while 1=something, win.
The squares on the wall seem to remind us to think outside the box when we're low. Only like that we can find a way to go up gain.
The blue roses make me think that even when we're feeling at our lowest, we can still find beauty in things or create beauty from our sadness and sorrow. There are, after all, many works of art, novels, songs, and poetry, that were created when the author was feeling low or even depressed.
© Charly Cross 2020. All rights reserved.