The Moon is the 18th card in the Major Arcana.
This card is full of meanings and hidden messages. Of course, the meaning will depend on the reader, question that was asked, as well as the other cards surrounding it.
What do we see?
The color scheme is one of the first things we see, before we get to interpret the card. The dominant color of this card is a murky green.
The second color that pops out is yellow. And then we have some hints of orange and red.
In the center of the card, to the right, we see a female figure. She stands in a clearing and there's a forest behind her. A crescent moon is also above her.
She wears a yellow dress, tied with a red belt. In her right hand hand she holds a devilish mask with a very long nose and 3 red ribbons hanging as well. One of the ribbons may be connected to her belt, but we don't know for sure because her sleeve hides it.
The way she holds the mask and looks at it, reminds me of that Shakespeare "To be or not to be?" scene. I'm not familiar with Shakespeare, so I may be wrong here. 
The other hand is lifted in the air, and a sort of wand with a red heart is tied to it, with a white ribbon. The way it is lifted in the air, reminds me of Moses splitting the sea. 
The woman also appears to wear a mask. Unless that's a very poorly applied makeup. She seems to have a red ribbon through her blonde hair as well.  Unless those are some red beads decorating her hair.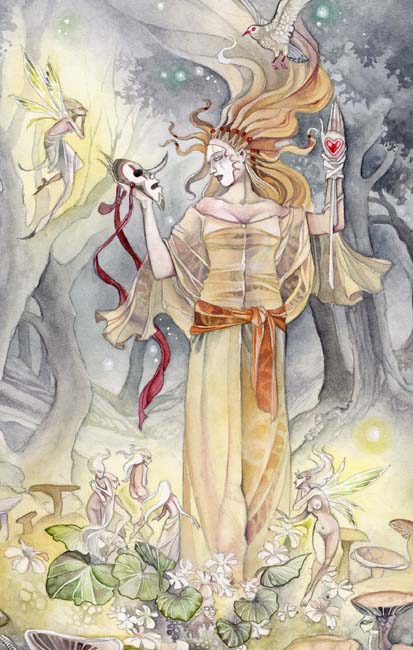 We can also see a bird that may be a dove, mushrooms at the woman's feet, some faeries/faes. Most of them are sitting on the grass at the woman's feet.
On a now dead forum, they were saying the mushrooms are the kind to get you high, because of the light around them. Given that upon a very close inspection we see some little devils hidden among the mushrooms, this could be a good point. Please refer to the image below.
The moon sits like a boat, and a ray of light appears to connect it to the bird's head. I have the impression the ray of light starts at the bird's head and goes up to the moon and not the other way around.
What does it all mean?
Clearly, this is a mystical card. It doesn't get more mystical and mysterious than this one. For this reason, i have a pretty difficult time understanding it.
It's usually at night that witches cast their spells. In many movies revolving the supernatural, all such activities also happen during the night.
In some faerie tales, certain creatures were showing their true "colors" (or faces) only at night.
Since it's night, we can also assume this is a dream or an illusion. Perhaps the woman is under the influence of some drugs (magical mushrooms) or under the influence of some evil/bad person or who is comparable to the devil (from the little devil we see on this card. Actually more of them).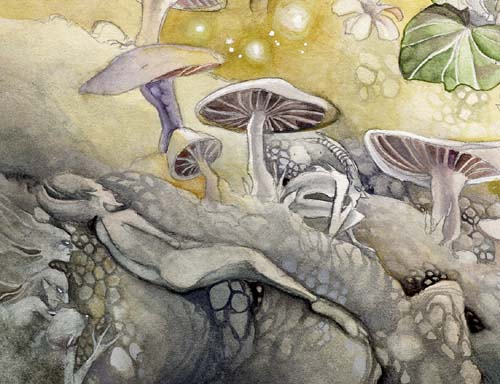 Perhaps she realized that someone is not truthful to her (the mask in her hand came from that someone?). If you want to know more about the meaning of the red ribbon, click here. I won't repeat all that. She probably had to go through this as a life lesson, and wonders what's the best course of action.
I'm not sure why the ribbon is not tied to her and why is it here….
however, she has a ton of other things to worry about – see those red beads or red ribbon through her hair. Those could be more important than her discovery.
Perhaps the character knows someone who is lying to someone else, and controls that person through those lies, and now she ponders on what to do.
DISCLAIMER: I don't think anyone should treat anyone badly or to lie. Nobody has to "teach" anyone a lesson. I don't excuse or trying to excuse abuse of any kind. I deeply apologize if the above descriptions triggered anyone, that wasn't my intention. I described a hypothetical situation i felt related to the card.
Maybe her pain and suffering came from her wearing hr heart on her sleeve – literally on the other hand.
She does have 2 options:
despair and let all this negativity take her over and become a depressed, bitter person
use the experience in a way that can benefit her AND others, by creating something – art, poetry, music, novels, self-help books and seminars.
She is also wearing a mask. Is she blind? Will she continue to be blind? I'm not sure and she also doesn't seem to know the answer yet (see my remark above related to Shakespeare). However, it's funny that on the card's official page another Shakespeare play is referenced.
Maybe she ponders to take off her own mask when looking at the one in her hand. Maybe the mask in her hand was still hers, but even removed, her true self still can't shine through.
Yellow is a color full of joy. Green usually means life, since all green plants are alive. Based on these colors alone we can assume this scene takes place in summer.
Like i said, this card doesn't "speak" to me. If you want to learn more about this card, you can refer to this page.
© Charly Cross 2021. All rights reserved. pictures belong to Stephanie Law.